Surface Finishing Specialists

820 2121
"Our Focus your Finish"
FEIN Stainless Tools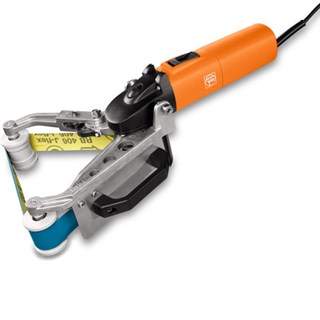 RS12-70SET
The RS 12-70 E can be easily manoeuvred around tight curves and enables you to rework ready-fitted hand rails. With infinitely variable speed it's ideal for sanding, satin-finishing and high-gloss polishing. And thanks to flexible sanding belts it adapts optimally to even the tightest pipe bends.
Stainless steel starter set for standard applications in pipe machining.
Benefits:
Effective sanding of welded seams thanks to optimum cutting speeds of the sanding belts.
Infinitely variable speed for sanding, satin-finishing and high-gloss polishing of ready-fitted hand rails.
Flexible sanding belts optimally adapt to even narrow pipe bends, creating surfaces without awkward transitions.
360° peripheral sanding in just 2 steps.
Optional guide pulleys for narrow distances from the wall.
Restart protection.
Wide range of accessories.
Dustproof ball bearing.
Carbon brushes with self cut-off function.
BF10-280SET
Start set belt file for corners and edges in stainless steel machining.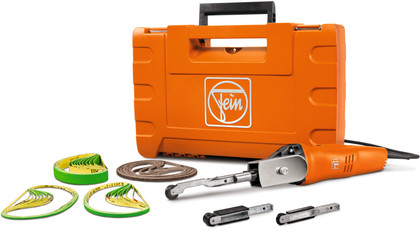 FEIN high-power motor for highly effective material removal and constant speed even at high loads.
Extremely easy to handle - tool-free, grinding arm can be swivelled 180°, tool-free belt installation and adjustment.
Start set with stepped and straight grinding arms for a variety of applications, ceramic grinding belts for effective machining of welded seams and fleece belts for finishing work in various widths.
Optimum belt speeds.
Perfect belt guidance.
Belt widths of between 3 and 20 mm.
Infinitely variable speed, ideal for protecting sensitive surfaces.
Soft start.
Restart protection.
H 07 industrial cable.
Comprehensive range of accessories available.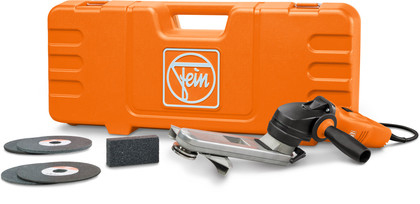 KS10-38E
Fillet weld sander for difficult-to-reach spots in metal constructions.
Flexible use thanks to drive head that can be swivelled without the need for tools.
Flat design for corners, angles and difficult-to-reach spots.
Long belt drive service life thanks to zero-maintenance tensioning system.
Spindle brake for quick tool changes.
Spark hood can be adjusted and removed without the need for tools.
Electronic speed setting.
Made in Germany quality.
H 07 industrial cable.
Soft start.
Restart protection.

MSHY664-1
Straight grinder for rough grinding work.
Powerful straight grinder for tools of up to Ø 125 mm.
Clamping tools with flanges.
Can be extended into a belt sander with a band width of 30 or 50 mm using sanding arm.