Surface Finishing Specialists

820 2121
"Our Focus your Finish"
GRACO ECO-QUIP TRAILER UNIT
FOR HIRE OR SALE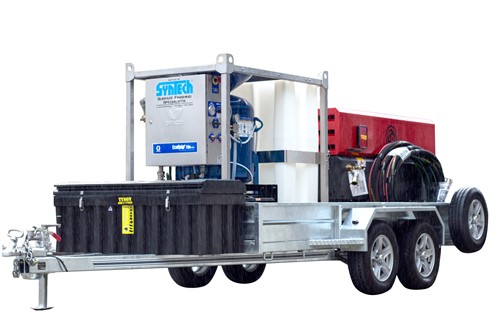 *Picture representation only not necessary the unit stated
GRACO Ecoquip® Vapor Blasting unit complete with 185 CFM Diesel Compressor and Trailer
Syntech has carefully designed a trailer mounted Vapor Blast  system for you!
The trailer is conveniently configured with blasting in mind by the placement of the
Graco Ecoquip Vapor Blast System and compressor on a twin axled trailer.
This allows for ease of use  and  portability to onsite blasting jobs.
There is free space for your tool kit, blast hose and PPE equipment.
This is the ultimate mobile blasting system at a competitive price for sale or hire!
The best in Dustless Blasting Systems!
ECOQUIP® VAPOR BLASTING
Consumes far less media than dry blasting

Eliminates up to 92% of airborne dust

A quick powerful alternatrive to dry blasting

Works on any substrate

Profiles surfaces for the best coat adhesion

Trailer is twin axle braked

Chicago Pneumatics 185 CFM Compressor

Ecoquip® unit comes complete with 20 metres blast hose and nozzle


 Specifications
Stainless Steel Crash Frame with forklift pockets and hose rack

Blast pressure ranging from 24-175 PSI (1.7-12.1 bar)

Pot size of 6.5 cubic ft. (184L) - holds approximately 16x 25kg bags of media

Pneumatic Blast Control

20 metre Blast Hose

Size 8 High performance Blast Nozzle

Coated enclosure and water inlet regulator for hose connection

Polyethylene water tank

one (1) year product warranty
Package Weights
Based on Trailer, Compressor and Eco-quips EQS Elite
Net Weight: 1950kg approximately            Gross Weight: 2950kg approximately
Please note: it is important toensure when selectina towing vehicle it is rated to hand the above weights. 
Gross Weight can be reduced by reducing the water in the additional holding tank if required.
Further information available on request.
Call 0800 Syntech about hire or purchase of our
Graco Ecoquip® Trailer unit!