Surface Finishing Specialists

820 2121
"Our Focus your Finish"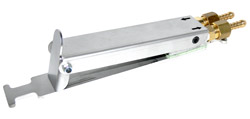 Deadman Handle Code: 990010
The Syntech Deadman Handle is constructed from heavy gage Stainless Steel and uses a positive pressure pneumatic valve system. The valve actuates once depressed. No more annoying air leaks. Lightweight in design.
The Stainless Steel construction ensures that the Deadman Handle is able to withstand most treatment the rugged Blast Operation can throw at it.
Deadman Handle quickstop pneumatic Code: DH-QS
Quickstop Pneumatic Deadman control handle with safety strap.