Surface Finishing Specialists

820 2121
"Our Focus your Finish"
ShotMeter G3 - Particle Velocity Sensor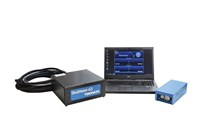 Progressive Surface & Tecnar Automation are proud to introduce the ShotMeter G3, an improved third generation industrial sensor specifically developed and optimized for monitoring shotpeening and grit blasting processes.
This low-cost & rugged technology enables real-time measurement of shot/grit velocity for process development as well as troubleshooting activities. Measured parameters are continuously recorded as a function of time in a strip chart format, and data is archived for easy retrieval either from within the ShotMeterOS software, or using your preferred spreadsheet software.
The system is comprised of a urethane covered sensor head, control box, cables and a portable laptop computer. Since the unit is portable, it can be set up and running in about 20 minutes.
System Features and Benefits
Standard
Small sensor head - 3.5 lbs (1.6 kg)
Includes laptop with software pre-loaded
Non-laser based measurement technique (no safety issues involved)
Velocity at better than 1% precision
Built-in TCP-IP protocol for remote control & feedback
Sensor Head Mounting Bracket and Tripod
Portable Storage/Carry on Case
CE approved
Optional
Machine mounted and integrated with PRIMS Pro process monitoring software