Surface Finishing Specialists

820 2121
"Our Focus your Finish"
Mechanical Sand Blast Recovery System
Entry Level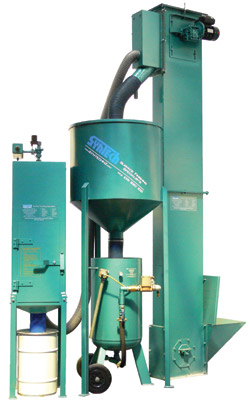 Bucket Elevator incorporating base media loading hopper and top mounted media air-wash
Reverse Pulse dust collector for separating dust as the media passes through the air-wash
In-line media storage hopper to increase operator blasting time by having a large continuous flow of abrasive.
Optional Blast Pots can be installed from 174 litre blast pot to 40 litres
The Syntech entry level mechanical media Recovery System is designed to be set-up as a stand alone set-up or can be integrated within a blast booth.
To recycle the media, the operator processes the media into the loading hopper where it is transferred via the elevator through the air-wash where the media is air-screened. From there the media is stored in the in-line storage hopper for re-charging of the blast pot for continuous blasting.
Features
Heavy Duty Belt
Pressed Steel Buckets
Media Air-wash system
Interfaces with  500 CFM self cleaning Dust Collector
Elevators  available in 3,4 and 5 metre heights
Can be floor mounted or flush mounted in a pit
Single phase motors for elevator and dust collector