Surface Finishing Specialists

820 2121
"Our Focus your Finish"
Magna Valve for Turbine Shot Blasters
Blast Cleaning Products
MagnaValves eliminate downtime on abrasive blast machine in titanium strip production facility
Calculate energy and cost savings with MagnaValves
Step-by-step MagnaValve installation at blast cleaning facility
MagnaValves reduce maintenace for Australian automotive foundry
MagnaValves in new blast cleaning process
For Machine Control
The MagnaValve is maintenance-free, rugged, economical and efficient
The benefits of our magnetic valve
The MagnaValve is a hardworking media flow valve with no moving parts, nothing to break, nothing to bring your blast cleaning job to a halt. Apply power and the MagnaValve's magnetic field is neutralized and shot flows through the valve. With no power, the permanent magnet stops all flow. This is an important feature of the MagnaValve. If the power to the valve is interrupted for any reason, the permanent magnet securely holds the shot, without the need for a secondary mechanical shut-off valve. MagnaValve owners never need worry that shot will flood a machine in event of a power failure.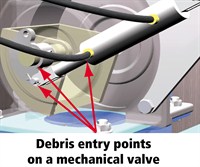 Why a MagnaValve is better than a mechanical valve
A mechanical valve is prone to seizing since debris can enter the valve through its moving parts. Valve seizures put a blast machine out of service. Also, mechanical shut-off valves can leak and flood the wheel assembly with shot. Because of its unique design, the MagnaValve isn't damaged by flowing media and it's completely sealed against debris. The MagnaValve's permanent magnet eliminates leaks.Maintenance crews and production managers appreciate its dependability and ease-of-use.
Cost savings
Because the MagnaValve gives you a level of control not possible with a mechanical valve, you will enjoy a cost savings from reduced media usage and lower media disposable fees. The MagnaValve also cuts energy costs since it optimizes the load on large horsepower motors and thereby reduces energy consumption.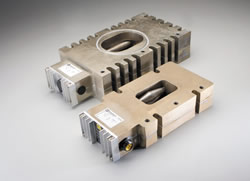 More Reasons Why the MagnaValve is Better than Any Other Media Valve
Provides highly controllable shot flow rates to each wheel
Numerous control options (amperage or actual flow rate feedback)
Precision electronic flow adjustment when required
Consistent wheel motor loadings ensure shot flow is the same day after day
Works with most steel shot including cut wire shot, cast steel shot and grit, and stainless steel cut wire shot
Available for wheel blast and air blast machines
24 Vdc and 110 Vac models
Easily retrofitted to older machines
Over 32 years of proven performance in the field