Surface Finishing Specialists

820 2121
"Our Focus your Finish"
Ceramic Bead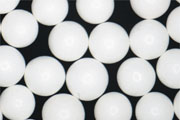 Ceramic bead is a spherical blasting and peening media produced by the fusion of oxides at a very high temperature. Ceramic bead is extremely tough, high impact properties coupled with good hardness, ensuring consistent peening intensities and surface finishes.
Application
Removal of carbon deposits and other impurities from glass making and rubber tire moulds, without damaging the surface or critical edges
Deburring thin gaskets
Shot peening ferrous and non ferous items includidng aircraft engine blades, turbines etc. Internal and external thread peening
Cleaning, sanitizing and surface finishing of fabricated stainless steel items for food and pharmaceutical industries. Medical implant and instrument surface finishing
Ceramic beads can be used in Air Blast and Wet Blast system plus Turbine Shot Blast equipment.
|  Sizes Available |  Nominal Size Range (microns) |
| --- | --- |
|  B20 | 600-850 |
|  B30 | 425-600 |
|  B40 | 250-425 |
|  B60 | 125-250 |
|  B120 | 70-125 |
|  B125 |  0-125 |
|  B205 |  0-70 |