Surface Finishing Specialists

820 2121
"Our Focus your Finish"
224 Surface Profile Gauge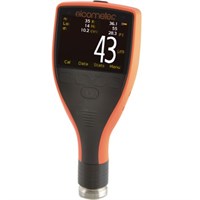 The Elcometer 224 provides the very latest in surface profile measuringtechnology. Accurate, fast and very user friendly, this gauge is available and with or without memory.
The Elcometer 224 Top model is available with wireless technology and can store up to 150,000 readings in 2,500 batches.
The Elcometer 224 is available in two different models: Model B and Model T. Each gauge provides the user with increasing functionality - from the entry level Elcometer 224 Model B, to the top of the range Elcometer 224 Model T, with memory, alpha-numeric batching and Bluetooth® communication. Integral gauges are ideal for single handed operation as the wide footprint of the internal probe provides greater stability during measurement - allowing for consistent, repeatable and accurate results.
Standard and armoured probes are available for the separate models, providing even greater measurement flexibility.Elcometer surface profile probes are supplied with a glass zero plate, calibration test foils (nominal values 125µm (5.0mils) & 508µm (20mils) and an Elcometer Test Certificate.