Surface Finishing Specialists

820 2121
"Our Focus your Finish"
Pneumatic Recovery Sand Blast System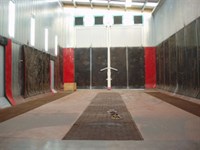 The Pneumatic "W" Module Section Floor offers a unique means of abrasive recovery. In conjunction with the Abrasive re-claimer, a most efficient ventilation system is provided. This has many outstanding advantages when compared with other blast room designs.
A simplified design combining Down Draught ventilation and Pneumatic conveying in the same air movement. With only one moving part - the fan, elimination of mechanical parts from the abrasive conveying system, reducing costly maintenance and breakdowns.
Clear visibility for the operators comfort and effectiveness in sighting the blast target.
The pneumatic conveying system, in conjunction with the Abrasive Re-claimer, air washes the abrasive before re-blasting, ensuring exclusion of dust and foreign matter from the abrasive during the blasting cycle. This is particularly important where removal of scale, rust and corrosion are required as a preparation for paint, powder coatings, metal spray, rubber lining etc.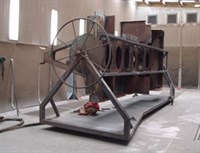 Syntech Pneumatic Recovery Blast rooms can be supplied in a wide variety of configurations, from the simplest using a single delta duct to using 
a number "W" Module floor sections. All systems use the Abrasive Re-claimer and power requirements vary 2.2 to 22kw, depending on the modules.
"W" Module Floor sections come in a number of sizes from 550mm to 1500mm wide and lengths up to 48,000mm. The modules can be positioned down one wall or staggered across the room depending on the size layout required.

The Abrasive Re-claimer is a fully welded steel fabrication which is free standing on it s own supports.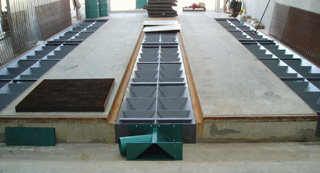 This unit performs (3) basic functions
STORAGE HOPPER, this unit is situated directly under the Re-claimer air wash. All clean and screened abrasive is collected here ready for recharging of the blast hoppers.
ABRASIVE RECLAIMER, where all reclaimed product is conveyed to, for the continuous reclaiming, air washing and screening of abrasive. The fully adjustable air wash removes the dust like contaminated and vents then to the dust collector.
DUST COLLECTOR, the fan and the motor of this section powers the conveying duct which retrieves all product to the Re-claimer. All dust like contaminates that are passed by the re-claimer, are trapped in the cartridge filters.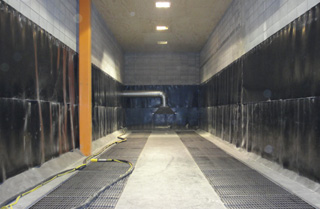 The cartridges are automatically reverse pulse cleaned.