Surface Finishing Specialists

820 2121
"Our Focus your Finish"
Graco Ecoquip Trailer Unit 275CFM
Graco Ecoquip® Vapor Blasting Unit complete with 275CFM Diesel Compressor and Trailer
Syntech has carefully designed a trailer mounted Vapor Systemn for you!
The Graco Eco-quip EQs Elite 262974
The trailer is conveniently configured with blasting in mind by the placement of the
Graco Ecoquip® Vapor Blast System and compressor on a twin axled trailer.
The allows for ease of use and portability to onsite blasting jobs.
There is free space for your tool kit, blast hose and PPE equipment.
This is the ultimate mobile blasting system at a competitive price for sale!
The best in Dustless Blasting Systems!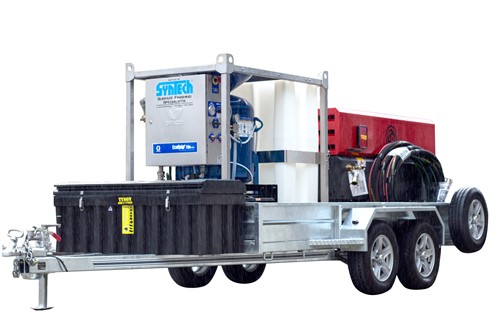 * Picture a visual reprsentation only.  May not be the unit stated on this page
 Specifications
Stainless steel crash fram with forklift pockets and hose rack
Blast pressure ranging from 24-175PSI (1.7-12.1 bar)
Pot size of 6.5 cubic ft. (184l) - holds approximately 16 x25kg bags of media
Pneumatic Blast Control
20 metres Blast Hose
High performance Blast Nozzle
Coated enclosure and water inet regulator for hose connection
Polyethylene water tank
One (1) year product warranty
Optional Extras
Additional 4 wheel Electronic Disc braking system for towing above 3500kg
40 metre blast hose
Training
Package Weights
Based on Trailer, Compressor and Ecoqip EQS Elite
Net Weight: 2530kg approx                                         Gross Weight: 3590kg approx
Please note: it is important to ensure when selecting a towing vehicle, it is rated to handle the required weights. Gross Weight can be reduced by reducing the water in the additional holding tank if required
Further information available on request