Surface Finishing Specialists

820 2121
"Our Focus your Finish"
Wet Blast Cabinets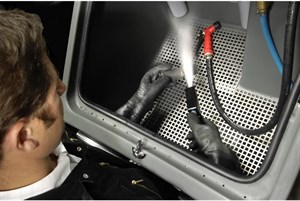 As experts in the wet blasting process, Vapormatt have been providing surface processing and wet blast cabinet solutions for high value industrial components to customers throughout the world.
As originators of the process Vapormatt have made it their aim to be the world's leading wet blasting company.
With a strong competence in design, controllability and process development you can be confident in their ability to deliver solutions that meet and exceed you surface requirements.
Vapormatt is one of the world's leading wet blasting companies having developed the process over several decades.
Vapormatt are able to offer a range of solutions for a large range of industries including: aerospace, aluminium extrusion, automotive, composites, cutting tools, defence, nuclear and wire.
Vapormatt can provide you with both automatic, manual and walk in wet blasting systems to purchase or rent, a processing service allowing you to outsource or a range of fully refurbished second hand wet blast systems.
All of their wet blasting solutions benefit from the extensive knowledge of their design teams, process consultants and service engineers. This ensures that any solution Vapormatt provide you with will meet your expectations of surface processing.
Their success has been largely based on their commitment to a collaborative approach and working with customers to better understand their needs; making us experts in their field. For industries requiring some of the best available solutions for wet blasting Vapormatt is often regarded as a leader, setting benchmarks for others to follow.
Despite being typically smaller and less complex all of Vapormatt's manual systems incorporate the patented systems and pumps that are needed to achieve the high standards that Vapormatt aim to deliver.
Vapormatt's manual systems have been designed if your surface requirements do not call for extensive usage of a system allowing time for an operative to process components.
Their range is extensive and we have solutions for: companies with small components, individuals needing only occasional processing and for businesses looking to manually blast large components.
Starting from their smallest system, the Vapormate, to their largest manual system, the Vapormatt 1717 you should be able to find a system to buy or rent that matches your capacity requirements.
For more information on these systems please see the products below.
Vapormate
With its compact footprint the Vapormate unit fits neatly into all work environments. The unit is simple to operate keeping maintenance to a low. Being easy to clean it is possible to quickly and efficiently change medias for different applications.
Panther 
The compact footprint allows for space to be saved in busy workshops.
Effective filtration helps keeps the system free from contamination.
A side opening door makes for ease of un/loading.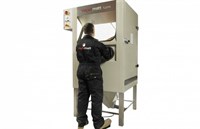 Lynx
Ergonomic design for comfortable processing
Highly bespoke with a range of options to suit your needs and processing requirements
Consistent processing by giving you control of recipe parameters
Easy rinsing with a mains fed rinse gun attached to the cabinet
Cougar
Ergonomic design for comfortable processing
Long lasting - with several durable PU and GRP Vapormatt parts that improve reliability
Highly bespoke with a range of options to suit your needs and processing requirements
Consistent processing by giving you control of recipe parameters
Easy rinsing with a mains fed rinse gun attached to the cabinet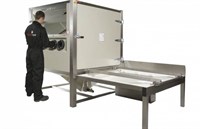 Vapormatt 1717
Enormous working envelope to handle large items
Effective filtration to ensure high levels of purity within the system
Automation available allowing the potential to upgrade
Highly bespoke with a range of options to suit your needs and processing requirements