Surface Finishing Specialists

820 2121
"Our Focus your Finish"
Stainless Grittal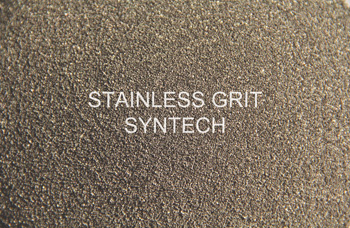 GRITTAL was developed as an alternative to mineral grit abrasives and fulfills all requirements concerning blasting performance and a corrosion-free surface finish.
GRITTAL offers additional clear economical and evironmental advantages. The extremely high durability of this rust-free stainless steel grit reduces the amount of abrasive consumption by a factor of 20 -100 and thereby also minimizes the amount of waste that is generated.
The durability of GRITTAL results in a consistent work mix, constant roughness values and guarantees a quality adhesion for an ensuing coating.
GRITTAL's dust-free characteristic allows for excellent vision while blasting and helps to better control the blast process.
GRITTAL is succesfully used in centrifugal wheel blast machines and Blast Booths.
Areas of Application:
Blast cleaning, de-burring, surface preparation prior to coating, brush blasting of hot-dipped galvanized structures, stone cutting in gang saws.
All types of aluminum castings and forgings
Zinc pressure die castings
Non-ferrous metals and special alloys
Stainless steel castings and forgings
Stainless steel equipment fabrication
Granite and stone industry
GRITTAL offers the folowing advantages:
Greater durability
Lower blasting times
Brighter finish
Rust-free surfaces
Grittal can be used in centrifugal wheel machines as well as air blast systems
Lower waste disposal costs
Success with GRITTAL: Shot blasting of tank containers per year
|   | Aluminum oxide | GRITTAL |
| --- | --- | --- |
| Intial Charge | 6000 kg | 9000 kg |
| Consumption p.a. | 175 000 kg | 5000 kg |
| Abrasive costs | Ο 96 250.00 | Ο 40000.00 |
| Containers produced p.a. | 3530 | 3530 |
| Consumption | -50kg/container | -1.4kg/container |
| Waste disposal costs |   | 82 % less |
| Maintenance costs |   | 72 % less |
| Blasting time | 70min./container | 50min./container |
| Nozzle life time | - 1 month | - 4 month |
Rust-proof angular chromium alloy
Chemical Analysis: C - 2%, Cr - 30%,
Microstructure: Martensitic with chromium carbides
Hardness:
GRITTAL GH - 750 HV (-62 HRC)
hardened and crushed (patented process)
GRITTAL GM - 640 HV (-56 HRC), crushed
Bulk density: - 4.1 g/cm3(-256lbs/ft3)
Packaging:
Packed in convenient 25kg bags