Surface Finishing Specialists

820 2121
"Our Focus your Finish"
Airwall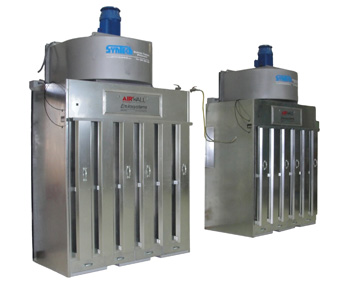 Incorporating an Airwall® Dust Collection system into the workplace creates a cleaner, safer, healthier work environment. It protects the work force and the business. Airwall® Dust collection Systems meet EPA and OSHA standards for clean air.
Syntech can provide an Airwall® system for virtually any location and for any business with an airborne contamination problem.
There are many advantages to incorporating an Airwall® System into the work environment.
Extremely low operating costs
Simple , inexpensive installation
removes 99.9% of airborne contaminates
Exceeds EPA and OSHA standards
Trouble free cleaning
Improves productivity and safety
Cleaner work environment
Reduces equipment maintenance
All Airwall® Dust Collection Systems begin with the Airwall® unit. The airwall® is a self contained cartridge filter unit with a small footprint and operates with lower horse power fans than traditional models. The Airwall® unit automatically cleans the cartridge filters utilizing compressed air. It comes in various standard sizes or can be built to your specifications. Syntech can help you determine which model is bested suited to your application.