Surface Finishing Specialists

820 2121
"Our Focus your Finish"
Almen Strips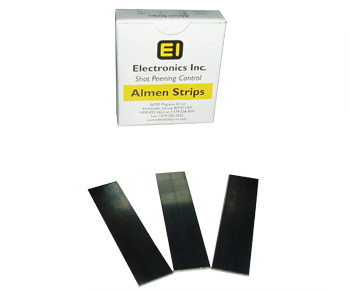 The Almen strip hasn't changed significantly since its development in the 1940s by John Almen. Year after year, the deceptively simple test coupon fulfilled its function as an indicator of shot peening intensity. Shot peening was growing increasingly sophisticated; however, mostly due to its contribution to the aerospace industry. Electronics Inc. (EI) recognized this and has developed an Almen strip with features to help peening facilities meet the demands for increased process and quality control.
The Numbering System
Provides a tracking method for meeting specifications, and first-in, first-out, ISO and Nadcap requirements
Allows lot-to-lot comparison for process consistency
Part of Electronics Inc.'s comprehensive traceability and audit program
Denotes genuine EI product
The Coverage Check Finish (U.S. Patent No. 6,568,239)
Lapses in coverage are easy to check visually
Contributes to a proper flapper peening technique
Enhances capabilities of coverage checker tools
Types and Grades of Almen Strips
By Type Almen strips are classified into 3 types: 'A', 'N', and 'C'. They differ in their thickness but have the same width and length. The type of strip is usually specified by the part designer.
"A" strips are used for medium intensity applications. "A" strips are predominantly used for shot peening with cast shot or cut wire shot.
"N" strips are used for low intensity applications. "N" strips are used usually for glass bead and ceramic bead peening.
"C" strips are used for high intensity applications.
By Grade
Grade 3 - Bulk (A-3™, N-3™, C-3™)
Grade 3 strips are guaranteed to meet the requirement of MIL-S-13165 (now AMS-S-13165). Type A-3 strip is guaranteed to meet National Stock Number NSN 6635-00-512-1892. Grade 3 strips are economically-priced and bulk-packaged.
Grade 2 - Standard (A-2™, N-2™, C-2™)
Meets AMS-S-13165. Excess oil is removed from the Grade 2 Standard strips. The strip surfaces are then visually inspected for score marks, scratches, nicks, burrs, pits and rust. Strips are certified using a sampling inspection plan for hardness, length, width, thickness, and flatness. A dated certification of compliance is issued, signed and archived. We then package "A" and "N" strips in groups of 50 and "C" strips in groups of 25.
Grade 1 - Premium Grade (A-1™, N-1™, C-1™)
Meets SAE J442. Electronics Incorporated performs all the inspection and packaging operations listed for Grade 2 strips. Strips are sample inspected for flatness (±.001-inch) on each side. A dated certification of compliance is issued, signed and archived. The Premium Grade 1 strips are identified by batch control number which provides traceability.
Grade 1S - Special Grade (A-1S™, N-1S™)
Meets SAE AMS 2432B. In addition to requirements for Premium Grade 1, the Grade 1S strips are inspected to ±.0005-inch flatness tolerance of AMS 2432B. A dated certification of compliance is issued, signed and archived.
* AMS-S-13165 has been cancelled with instructions to use AMS 2430. For more information see Almen Strips FAQ.
A-3, A-2, A-1, A-1S, N-3, N-2, N-1, N-1S, C-3, C-2, C-1 are trademarks owned by Electronics Inc.
 

Almen Strips Specification Selector Guide

Specifications

A-3™

 

A-2™

 

A-1™

 

A-1S™

 

N-3™

 

N-2™

 

N-1™

 

N-1S™

 

C-3™

 

C-2™

 

C-1™

 
 

SAE AMS 2432 B

 
 
 
 X
 
 
 
 X
 
 
 
 

SAE J442

 
 
 X
 X
 
 
 X
 X
 
 
 X
 

SAE AMS 2430

 
 
 X
 X
 
 
 X
 X
 
 
 X
 

AMS-S-13165*

 X
 X
 X
 X
 X
 X
X 
 X
 X
 X
 X
 

MIL-S-13165C

 X
 X
 X
 X
 X
 X
 X
 X
 X
 X
 X

National Stock Number




NSN 6625-99-512-1892

 X
 X
X 
 X
 X
 X
 X
 X
 X
 X
 X