Surface Finishing Specialists

820 2121
"Our Focus your Finish"
Barrel Blasters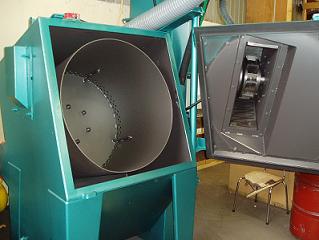 One semi-automatic, heavy duty shot blast cleaning machine for the cleaning of Castings and or fabrications using cast steel shot. The machine is equipped with one cetre fed, 8-blased centrifugal turbine Barrel Turbine which have a throwing capacity of 7300 kilograms per hour. The turbine is located on the door of the machine to provide the best coverage. The work pieces will be tumbled through the blast stream which is manually loaded and unloaded. Fixtures can be fitted to the barrel for items that cannot be tumbled.
Self contained compact and neat appearance.
Barrel Turbine Access door balance for easy opening and closing.
Convenient loading/unloading height.
Barrel 900mm diameter x 800mm long inclined at 15' rotationg at 3 rpm to gently expose component surfaces to the blast stream by means of 'pick up bars'
Blast wheel, door mounted - eight high alloy
Barrel Turbine cast bladed with centre feed, control cage and impeller to ensure accuracy of blast stream at all times.
Air wash separator to provide superior cleaning of abrasive.
Completely safe with appropriate interlocking safety devices.
Quiet running operation - around 85dB (A)
Cycle Timer - for consistent production finishes without supervision.