Surface Finishing Specialists

820 2121
"Our Focus your Finish"
Continuous Blasters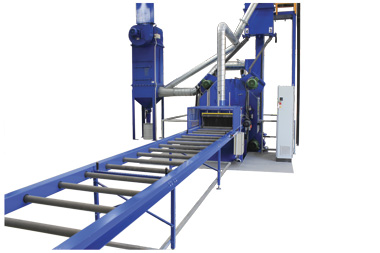 Syntech continuous blasters are designed to clean rust, paint and mill scale from structural sections and steel plate either in a horizontal or vertical plane. These Custom Designed high production Blast Turbine Machines can process Steel or stainless Plate, Universal Columns and Beams, Angle, Flat, Channels, Bar, Pipe (square and rectangular hollow sections) and more complex fabrications.
Each continuous blast machine is designed specifically around your individual work process, substrate type, conveyor speed and surface profile requirements. Able to be integrated with Overhead or Flat Bed Roller Conveyor.
Benefits with Syntech continuous blasters are:
High Production Output with Minimal Man Power 
Variety of designs to clean complex fabrications or as rolled structural sections
Multiple Turbine Wheels clean from opposing directions providing optimum Blast Cleaning coverage
Overhead or Flat Bed Roller Conveyor integration
Custom Designed Systems can be Engineered and Manufactured to suit your exact requirement
Roller Brush or High Pressure Air Blow Off to minimise Abrasive Media carry over
A Full Range of Spare Parts available