Surface Finishing Specialists

820 2121
"Our Focus your Finish"
Indexing Shot Blaster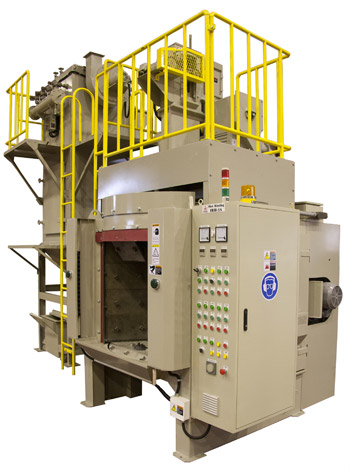 TRH - Rotary Hanger Shot Blasting Machine
This 2-Hanger Rotary Type Shot Blasting Machine Type TRH (formerly known as IRH) is the preferred choice for customers that need to blast cast iron and aluminium castings. The workpieces can be conveniently loaded and unloaded by placing them on the hanger in the front section of the machine, while at the same time the other batch of workpieces are cleaned in the blasting area. Due to the fact that they are placed on hangers, damage to delicate workpieces will be prevented making this kind of machine the most suitable solution for the treatment of automobile and die-casting components.
Fully automated cleaning of workpieces
100% blasting coverage of workpieces due to the spinning action of hanger 
Machine tight sealed to ensure no abrasive leakage
Convenient loading and unloading of workpieces 
Low noise level 
Optional explosion proof dust collector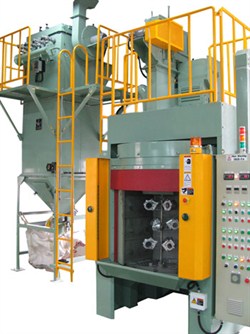 Model Type
 TRH-5A
 TRH-9RA
 Max. diameter of workpiece hanger [mm]
 500
 600
 Height of workpiece hanger [mm]
 600
 900
Max. loading weight per hanger [kg]
 50
 80
Max. single workpiece weight [kg]
 10
 15
 Average cycle time (e.g. die-casting workpiece) [sec]
 60
 60
 Number of blast wheels & capacity
 2 x 7.5 Hp (5.5 Kw)
 2 x 20 Hp (15 Kw)
Air consumption 
 18 cfm at 6 bar
 25 cfm at 6 bar
Total power requirements
 23 Hp (17.05 Kw)
 56.5 Hp (42.4 Kw)
Machine dimensions [mm]
A 1500
B 2400
C 3800
A 1900
B 2700
C 4600