Surface Finishing Specialists

820 2121
"Our Focus your Finish"
Stainless Chronital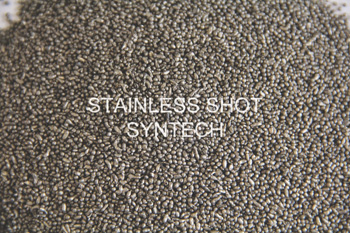 CHRONITAL is used in all applications where non-rusting materials such as aluminum, zinc, stainless steel, brass, bronze, etc. are blasted.
CHRONITAL's large spectrum of grain sizes makes it well suited to cleaning, de-burring, hardening and surface finishing of all types of castings, forgings, profiles, wire and welded structural parts, without the possibility that rust could discolor the bright surface due to ferritic dust.
CHRONITAL distingishes itself by having a high percentage of spherical grains and by its compactness. The end result is low consumption, high performance and low machine wear.
Areas of Application:
Blast cleaning, de-burring, surface refinement, surface finishing
All types of Aluminum castings and forgings
Zinc Pressure Die castings
Non-ferrous metals and special alloys
Stainless steel castings and forgings
Stainless steel equipment fabrication
Granite and stone industry
CHRONITAL offers the following advantages:
Greater durability
Shorter blasting times
Brighter finish
Rust-free surfaces
Reduced wear on machines
Blsting of metal:
for effective de-burring
short blasting times
perfect surface finish
Rust-free surfaces
Cast stainless steel abrasive, rust-proof, spherical
Chemical Analysis: C - 0.17%, Cr - 18%, Ni - 10%, Si - 1.8%, Mn - 1.2%
Microstructure: Austenitic
Hardness:
Delivered - 300 HV (-30 HRC)
Work mix - 450 HV (-45 HRC)
Bulk density: - 4.7 g/cm3(-293lbs/ft3)
Packaging:
In convenient 25kg bags