Surface Finishing Specialists

820 2121
"Our Focus your Finish"
Prefilter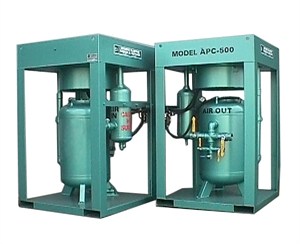 Prefilter
Features
Heavy Duty Skid frame with forklift pockets
Manufactured to AUS/NZ Standards
Aluminium Fins for optimum heat transfer
Multiple outlets fitted with ball valves
Compact vertical airflow designed fan blades reduce noise and vibration
Fan motor includes filter, regulator/ lubricator and muffler
Available with electric or air drive motor
Skid Mounted Dryers, these units are robustly built and fully transportable for the Blasting, Mining & Construction industries. Compressed air enters a Pre-filter for removal of particles before entering the after cooler, which lowers the temperature of the compressed air.  Air is then passed through a Stainless Steel coalescer and media bed to knock out and collect the moisture content even further. The air is passed through the holding vessel and then piped into a distribution manifold. Collected moisture is drained via a manual ball valve at the base of the holding vessel.
| ORDERING CODES | SIZE |
| --- | --- |
| APC-300 | 300 CFM |
| APC-500 | 500 CFM |
| APC-1000 | 1000 CFM |