Surface Finishing Specialists

820 2121
"Our Focus your Finish"
Wet Film Combs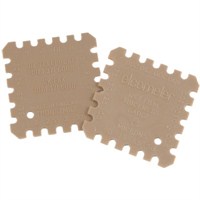 Plastic Combs
The Elcometer 154 Wet Film Combs are made from ABS plastic and are designed to be used once and kept as a record of wet film thickness measurement for quality assurance or customer requirements.
Metric and Imperial values are on the same comb, 50 to 800µm on one side, 2 to 32mils on the other.
Supplied in a pack containing 500 combs. Each comb has 16 measurement steps.
Aluminium Combs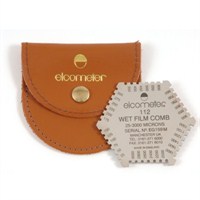 These punched aluminium combs offer the user a low cost method of measuring the wet film thickness.
The Elcometer 112AL, being punched from aluminium, is not as accurate as precision formed, stainless steel wet film combs and has a shorter lifespan.
Supplied in a pack of 10 combs, they have Metric units (25 - 3000µm) on one side and Imperial values (1 - 118mils) on the other.
Stainless Combs
These reusable precision stainless steel combs are made to be long lasting and are supplied with either Metric or Imperial measurements.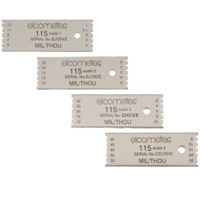 Four separate thickness ranges are available up to a maximum of 1270µm / 50mils and are manufactured to an accuracy of 5% or 2.5µm (0.01mil), whichever is the greater.
Each comb has 10 measurement steps (teeth).
Using a wet film comb
Place a comb perpendicular to and touching the substrate. Hold the comb in position and wait a few seconds until the teeth are wet. Remove the comb from the film. The wet film thickness lies between the biggest value 'coated' or 'wet' tooth and the smallest value 'uncoated' or 'dry' tooth.