Surface Finishing Specialists

820 2121
"Our Focus your Finish"
Film Application and Test Charts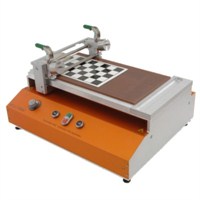 An essential machine for preparing a wide variety of product samples including paint, varnish, cosmetics, glue, etc. with total consistency and reproducibility on various substrates including contrast charts, sheet steel, plastic foils and glass. All Elcometer 4340 models have 11 pre-set speeds and adjustable stroke length with quick release system.
Ideal for testing paint, varnish, cosmetics, glue etc.
11 preset transverse speeds, from 0.5-10cm per second
Sample temperature control option
High quality samples produced for highly reliable laboratory testing
Smooth aluminium table - much smoother than glass - for better repeatability
Can be used with Elcometer Film applicators
Wide range of standard and high precision perforated and channelled vacuum tables
Adjustable travel carriage with "stop" at end of travel